Contest Winners Get to the 'Art' of the Matter
Originally written by Michael Wright, Texas Health and Human Services Commission. Used with permission.
---
For Mariam R., a pancake breakfast with her dad is a Sunday routine, and he does the cooking.
But the high school junior doesn't take it for granted anymore because she's come to see that routine through the eyes of others, and her understanding of their struggles has grown. The result of that understanding is a short essay she entered in the 2019 Children's and Adults' Mental Health Awareness Art Contest. "Morning Pancakes," a story of a girl who suddenly understands her father's struggles with mental health, took first place in the high school division of the writing contest.
"I started to think, we have our parents and they take care of us, and there's not always someone there to take care of them," she said. "I get worried about them."
The essay, inspired by the contest's theme, "Why Does Mental Health Matter to You?" was inspired by Mariam's empathy, not an actual event. It's a commentary on the 17-year-old's view of the world.
"We believe we're aware of what's happening around us and we're really not," she said. "I started trying to portray that naiveté."
This year's contest attracted 770 entries from children and adults, shattering last year's record of 336.
The winning entries, paintings, photos and written work are published on the Texas System of Care website. They'll also be on display May 18–19 at the Austin Public Library's Manchaca Road Branch as part of the West Austin Studio Tour and May 20–31 at the Brown-Heatly Building in Austin.
"This contest gets bigger every year," said Deputy Executive Commissioner Sonja Gaines, who heads HHS Intellectual and Developmental Disabilities and Behavioral Health Services. "It shows so much awareness, and the work really delves into the essence of mental illness, creating empathy in all of us."
To learn more about HHS' efforts in promoting mental and behavioral health, visit the Office of Mental Health Coordination webpage.
Scholarship Winner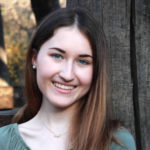 Holly Ainsworth, a nursing student at the University of Texas, was awarded the inaugural $1,000 Quell Foundation Writing Scholarship for her entry, "If It Was Physical" in the adult writing category. The Quell Foundation sought a writing category winner who is a current college student or high school senior enrolling in college in the upcoming academic year.